Friday, August 10, 2007
Posted by

Paul Ballard
at 1:59 PM
No comments:

Friday, August 3, 2007
Early Life and Musical Beginnings

From a young age Paul would often go out to see his Father perform with his Local Band and feel the excitement of a live stage with truly amazing musicians, his father being as they say an "old Jazz Master" on the guitar.
As Paul recalls "My father was always influenced by new fresh music. He'd often spend his free time on Sundays listening to the radio and learning to play all the new singles on guitar. He always amazed me how quick he could learn the chords and vocals!".
It was clear that Paul would pick up his fathers interest in what he calls "the language of music". "I feel that music is a language on it's own. It's not always necessary to understand what is being sung but more so the feeling behind the words that are being used. Therein lies to true meaning to the song"
It wasn't until the age of 10 that people started hearing his musical voice. As he was a shy boy he was introduced to the primary school choir so that he could talk to the other kids more. At that time the head teacher of his Primary School noticed his talent for singing and recommended he go see a Voice coach to enhance his vocal abilities.
At the age of 13 Paul was struck down with an illness known as M.E. (Myalgic Encephalomyelitis) "It felt like flu at first but when we noticed I wasn't getting better we obviously realized it was something more. It basically felt like I had done a triathlon three times in a row and was now feeling aches all over with a serious desire to sleep all the time." Being an illness not well known at the time caused a lot of problems for Paul.
"People would say that I was just lying to get out of school. Fact is I had good grades in school and was doing well at the time so it hurt a lot to hear that from close friends" It was here that Paul's first step into song writing came to life. "My mother always stood by me and researched non stop to help me over come the illness. I decided to start writing poems to share the feelings I felt at the time. I was good at English and Music in school so naturally I put the two together and started putting music to the poems I had written." Throughout this time whenever Paul felt well enough he would concentrate on enhancing this new ability he had found. He ended up leaving school at the age of 16 with 4 GCSE's "I didn't expect to get any considering I wasn't at school for 3 years so the fact I got 4 was good enough for me". Once school was over he went about improving his singing in front of a live audience. Continuing to listen to new music and sounds.
2005~2006
In December, 2005 Paul's family received the shocking news that his Father had been diagnosed with cancer.
"There's never anything anyone can say when you hear that kind of news. Typically we tried to act happy for my fathers sake but what we felt inside was of course a different matter". He spent the next 6 months at home looking after his Father while his Mother worked hard to feed the family.
Sadly in 2006 Paul's father lost in his battle with cancer two days before Paul's birthday. "My Mother, Brother and I were all there when he passed away. Every day I think of him, everyday i miss him... but I know he is still here guiding me." Shortly before this the family had also mourned the death of Paul's Grandmother Nora O'Brien.
On December 8 (Paul's Fathers birthday), of the same year Paul's Mother had a near fatal fall which left her with a broken spine. Paul helped nurse his Mother at home during this time as she had to learn to move all over again. "She's much better now though i still don't like seeing her carrying anything heavy."
2007~Present
Having been through what Paul describes as "the darkest days of my life", he has now returned with a new stronger ambition to achieve his dreams, focusing on the goals he has now set himself.
During his studies of the Japanese language of which he is self taught he decided to fuse his love of Japans native tongue with that of his music.
On December 8, 2007, Paul became the first British citizen to release an original Japanese song "Hotto Suru" (ほっとする, "Hotto Suru"?) worldwide incorporating both English and Japanese lyrics.
To help create awareness of it's release Paul traveled to Tokyo and performed at four live houses (based in Shinjuku "新宿", Shibuya "渋谷" and Harajuku "原宿") all of which were extremely well received.
During these performances a rare limited edition (subject to 80 copies) "Paul Ballard - Live Acoustics" CD was made available with 3 previously unheard tracks.
1. うるさい (Urusai)
2. Anymore
3. Missed Your Shot

Paul is currently living in London, England writing more material for his eagerly awaited debut album which is scheduled for release before the end of this year.
Posted by

Paul Ballard
at 11:46 PM
No comments: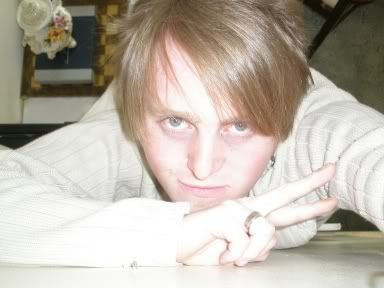 Hi there
I just want to say how amazing i feel at everyone's support for my music xD
I never expected to get much of a reaction on here so i feel truly blessed to have such awesome friends as you guys, My Manager and I are GOING to make this happen no matter what.
It is your words that drive us forward. We take your comments and words to the "business" people to show the react we are getting on here so thank you so much for your support. It helps a LOT.
Oh btw my Managers Name is Tony Clark.
For those that wish to know he has been involved in making music over the last forty years since he joined Abbey Road Studios as young teenager in the early sixties.
Through out the years his dreams have come true and he has been able to work with such artists as The Beatles, Stevie Wonder, John Lennon, Sir Paul McCartney, David Bowie and Sir George Martin to name but a few.We have been working together creatively over the last 3 years now. I am extremely lucky to have met him and have his complete support.
Together with you we are strong.We are starting a journey into something new for the music world.We'll get my music out to you guys one way or another.
Much Love
Paul
xxxx
Posted by

Paul Ballard
at 11:42 PM
No comments: